I did not here the bike run before I bought so after I got it home I threw some gas in the tank just to see if it would fire up. Almost as fast as I poured it in the gas leaked out. The petcock seal seemed to be the problem. I consulted the old clymer book and it didn't have anything about the petcock. So I figured I'd do a little "How To" to rebuild the petcock.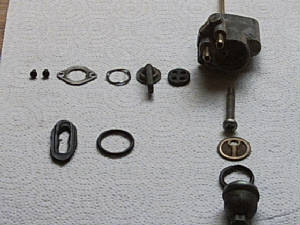 Here are all the parts of the petcock set up in the order in which they are assembled. In the bottom left you can see the piece of oval shaped rubber, this was the problem. It looked like it was cut out with a pair of scissors and was obviously not stock. I decided to try a O-Ring to seal the petcock to the tank and it worked. I used the O-Ring shown in the picture, it was about 1 in. diameter and about 1/8 in. thick. It was set in the grove around the top of the petcock shown in this picture.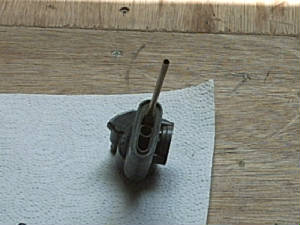 This was a fairly simple fix but if you are looking for replacement parts or a whole petcock assembly you can get them from either of these two sites. Both of these sites have an "OEM Parts Finder" with exploded parts diagrams. If you have a CB200 they probably have the part you need.